BIULETYN NARZĘDZI MONTAŻOWYCH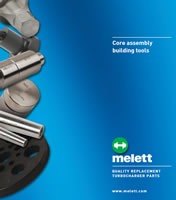 Core Tool Brochure Released (Flash Book – requires flash player)
Melett's new range of tools has been specifically developed to assist fast and efficient assembly of CHRA parts and help to prevent component damage during assembly.
From listening to our customers' requests and following the successful trialling and use of the tools in-house, the range is now available to enable you to share in the benefits. This brochure highlights the benefits of using the tools whilst also offering you a simple guide on how to use the tools correctly.